1 AMPHORISKOS,
EASTERN MEDITERRANEAN,
FIRST HALF OF V CENT. B.C.
Ovoid body with high neck, small funnel-shaped rim and small flat bottom. Small handles, with smooth curve near rim. Semi-clear blue glass. Yellow and turquoise outlining along edge of rim. Zigzag ornamental design of turquoise and yellow threads. Intact. Excellent condition. Height 7.2 cm.; diameter 4.4 cm.
SOLD
Reference: "Ancient Glass in the Hermitage Collection", by N. Kunina, The State Hermitage, ARS Publishers Ltd., 1997, cat. #31.
The Toledo Museum of Art, "Early Ancient Glass", by D.F. Grose, Hudson Hill Press, New York, 1989, cat. #104.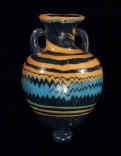 2 ALABASTRON
EASTERN MEDITERRANEAN
LATE VI CENT.-EARLY V CENT. B.C.
Fluted body widening downwards without neck, small rim, rounded bottom.
Dull, dark blue glass. Multi-row zigzag ornamental design of white threads outlining along edge of the rim. Vertical ring handles with knobbed tails. Surface iridescence. Intact. Perfect condition. Height 12 cm.; diameter 4.5 cm.
SOLD
Reference: "Ancient Glass in the Hermitage Collection", by N. Kunina, The State Hermitage, ARS Publishers Ltd., 1997, cat. #2